Corporate and Workplace Wellness Program
"Making Great Places to Work Even Better"
Many people take great pride in their careers–striving to be successful employees, managers, and executives who create a thriving and productive workplace. Unfortunately, the workplace is also full of stressors–deadlines, rapidly paced projects, budget and personnel decisions, and department politics-that get in the way of a thriving and productive workplace and can create long-term problems.
For thousands of years, T'ai Chi has been used to counteract tension, anxiety, and stress, and now Dr. David Clippinger, Director of Still Mountain T'ai Chi and Chi Kung, LLC, has developed an extensive and innovative program specifically designed for businesses based upon simple physical exercises, breathing techniques, and mindfulness strategies that not only remedy modern work-site issues but provide the tools to make sure that your place of work remains a "great" place to work.
Our corporate wellness program offers practical solutions to enhance all facets of your workplace environment.
Still Mountain's Corporate and Workplace Program is a unique blend of easy-to-learn T'ai Chi exercises, breathing practices, and strategies for making interaction with others a productive and rewarding experience, and it is ideal for employee workshops, manager training sessions, and executive and board retreats.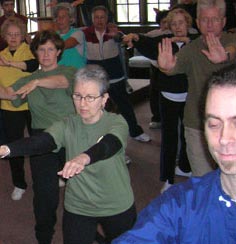 Some of Our Corporate Wellness Clients include:
Highmark Insurance Corporate Office, Downtown, Pittsburgh
University of Pittsburgh
UPMC
Pennsylvania Community Providers Association
Pennsylvania State Library System
Mt. Lebanon School District
On-Site Corporate Wellness Workshops, Seminars, and Retreats
Still Mountain T'ai Chi and Chi Kung, LLC, is available for on-site workshops, seminars, and retreats specifically designed to enhance the overall well-being of the individual employee and the team. Individual programs can be designed to meet the goals of any corporate or workplace environment.
Western medical studies have documented how T'ai Chi is extremely effective in treating a number of workplace issues. According to medical research supported by the World Health Organization, T'ai Chi is an extremely effective treatment for:
Anxiety
Carpal Tunnel
High Blood Pressure
Fatigue
Headaches
Neck and Shoulder Pain
Stress and Tension
Still Mountain's Corporate and Workplace Wellness Program teaches a number of simple exercises that alleviate many of these ailments that get in the way of individual productivity. The exercises immediately revitalize the body and mind and provide significant boosts of energy.
In addition to improved physical and psychological well-being, the Corporate and Workplace Wellness Program offers innovative team building strategies and activities that translate directly into sustainable workplace success.
The exercises and guided activities target a range of goals:
Honing Management Skills
Increasing Concentration and Creativity
Conflict Resolution
Strengthening Communication Skills
Boosting Employee Morale
Managing Difficult People
Training Techniques That Produce Results
Maximizing Customer Service
Here's what some of Still Mountain's Corporate and Workplace Wellness Program's Clients say about the program:
I think [that the program] is great to teach stress management in the workplace. This workshop made me feel better and motivated to learn more about Tai Chi. I really enjoyed learning the forms and being able to repeat them. I also liked that the techniques were simple enough to do at home or in the workplace.
The forms were easy to follow and it was a great relaxation time. [Dr. Clippinger] also [is] funny which helps with feeling comfortable.
The weekly T'ai Chi sessions [at UPMC] have been incredibly helpful.  I've been able to relax, improve my running, even reduce my blood pressure.  It's something I look forward to each week
The program was excellent, especially for management personnel. Actually it would be beneficial to anyone.
I would definitely recommend this program to other businesses as a stress reducer and also as a pain reliever for arthritic or joint pain. I learned stress relief and management, relief of my back and sciatica, and how to slow down and realize stress during the course of a work day!
I went to the Tai Chi classes because I have a bad back and lots of pain.  I am limited in what I can do.  Tai Chi is soft and graceful, and it gets rid of my pain for a few hours.
Tai Chi [at UPMC] on Fridays has allowed me to set aside a time that I can center and ground myself, allowing for a healthy transition to the weekend.  I can tell in the weeks that I have been taking classes, I am able to be more relaxed at work and home.
The techniques shown are really relaxing and I felt great afterward.
I have found the Tai Chi classes to be very informative and the movements are easy but surprisingly effective.
I have asthma and practicing T'ai Chi has helped me with learning how to relax and slow down my breathing.
The benefit that I have experienced since taking the T'ai Chi Class is my breathing is much better. I have recently started jogging and I can really tell that I don't get winded as easily as I used to before I started taking this class
To date, every person who has participated in any one of Still Mountain's Corporate and Workplace Wellness Program would unconditionally recommend this program to other businesses and/or corporations.