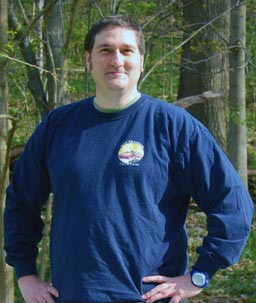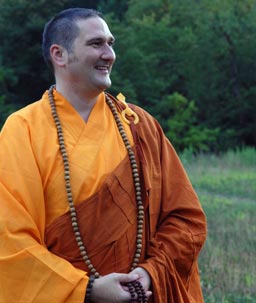 A practitioner, scholar, and Master of T'ai Chi and Chi Kung
Dr. David Clippinger is a practitioner, scholar, and Master of T'ai Chi and Chi Kung, who has studied with many renowned T'ai Chi masters including Professor Li Deyin, Madame Fang Mi-Shou, Grandmaster William C. C. Chen, Master Helen Wu, Dr. Jwing Ming Yang, Grandmaster Daniel Lee, Grandmaster Xiaoxing Chen, Grandmaster Nick Gracenin, Dr. Yang Yang, and others.  He has published articles on T'ai Chi, Buddhism, and Taoism in various journals and books and is currently writing on the concept of "Shi" the external energy that connects all things and informs the external aspects of T'ai Chi Chuan.  His book, Cultivating Qi, published by Singing Dragon Books (2017), the foremost publisher on books on T'ai Chi Chuan (taijiquan), Chi Kung (qigong), Traditional Chinese Medicine (TCM), and meditation has been called "the first book that integrates practice and philosophy for a Western audience."
In addition to running Still Mountain, Dr. Clippinger has lectured upon T'ai Chi and Chi Kung at Allegheny General Hospital,  was a keynote presenter for the 2005 National Ovarian Cancer Symposium and has conducted therapeutic T'ai Chi and Chi Kung workshops at Magee's Womens Hospital, Gilda's Club of Western PA, the Cancer Caring Center, the Dean Ornish Program at Allegheny General, the National Hemophilia Foundation's Family Weekend, Shepherd Wellness Community Center, and the Healing Weekend Retreat for Persons for HIV/AIDS.   He facilitates a corporate wellness program in Downtown Pittsburgh at UPMC as well as other locations.
Dr. Clippinger is also a fully ordained Ch'an Buddhist Monk with the Dharma name of Venerable Shih Tao-Fa ("The Way of the Dharma").  Dr. Clippinger has been featured in articles in the Pittsburgh Post-Gazette, Pittsburgh Tribune Review, Point of Light, and in "Now and Zen," which was published in Mt. Lebanon Magazine, March, 2005.   His research study on the medical benefits of meditation practices for the immune system—titled "Embracing the Moon: Therapeutic Benefits of Zen Meditation Techniques in HIV and AIDS Treatment"—was published by Howard University's College of Medicine in June 2011.
Dr. Clippinger is currently writing Living and Training with Purpose: The Life of Qi, to be published by Singing Dragon.
Master Clippinger has trained with and been individually coached by some of the world's most renowned and prestigious T'ai Chi, Chi Kung, and Internal Arts masters.  Some of the most famous of those teachers are listed below along with some of the forms taught to Dr. Clippinger.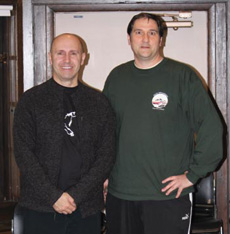 Master Clippinger trains regularly with Grandmaster Nick Gracenin with whom he has studied Fu Style Baguazhang, Kaimen Meditation, Liang Yi Quan, 8 Pieces of Brocade, Rooted Pine Qigong, Wu Dang Taiji Sword, Push Hands, Chan Si Gong, Yang Style Taijiquan, and Taiji Spear.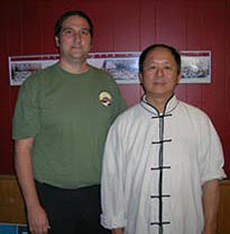 Grandmaster Dr. Jwing-ming Yang:  Shaolin White Crane, 8 Pieces of Brocade, Five Animals Frolic, Taiji Ball, Embryonic Breathing, Micro-cosmic Breathing, Four Seasons Qigong, Push Hands, Yang Style Taijiquan, Qigong Massage, and Medical and Therapeutic Qigong.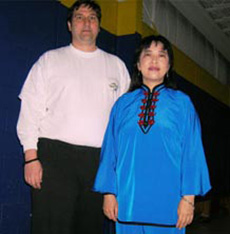 Master Helen Wu:  Taiji Rainbow Fan, Chen Style Taijiquan, Zi-Ping Wang's Therapeutic Qigong, 13 Stump Chi Kung, Two Person Fan, Fan Applications, Five Animals Qigong (Wu Xin Xi), and more.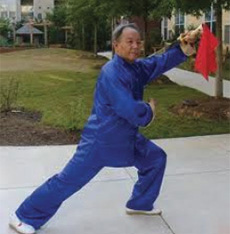 Professor Li Deyin: Taiji Kung Fu Fan Forms, 42 Movement Taiji Sword, and 42 Movement Taijiquan.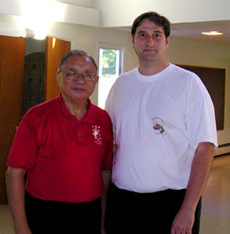 Master Daniel Lee:  Soaring Crane Qigong, Yang Style Taijiquan, and Yang Style Push Hands.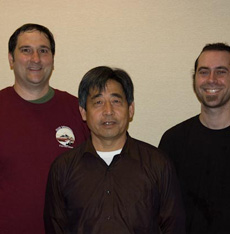 Master Chen Xiang:  Chansigong (Silk Reeling), Chen Style Double Taiji Sword, and Chen Style Taijiquan.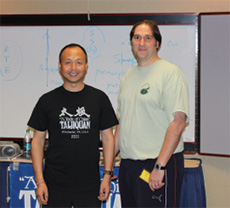 Master Dr. Yang Yang:  Push Hands, Chansigong (Silk Reeling), Taoist Standing Meditation, Chen Style Qigong, and forms from his Evidence-based Taiji and Qigong Program.
Dr. David Clippinger is a certified professional member of the American T'ai Chi and Qigong Society, and he has received certification to teach T'ai Chi as well as Medical and Therapeutic Chi Kung (Qigong) from numerous teachers including Dr. Yang.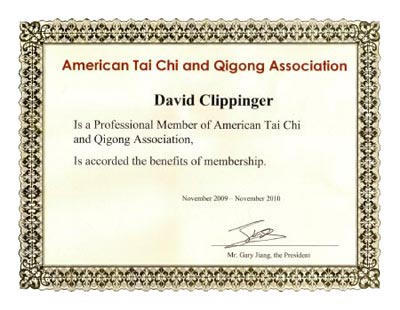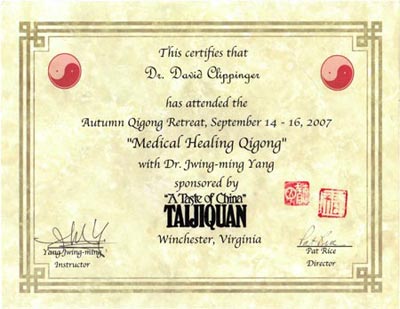 Some of Dr. Clippinger's published articles include: