New On-line Classes with
Supporting Videos!
With our new reality of being limited at home, why not use that time in a positive way to learn something new? Something that is healthy both for the body and mind? Something that reduces Stress while benefitting overall health? 
Still Mountain has developed a brand new series of integrated on-line classes with supporting reference videos. This series has been carefully designed with expert instruction for everyone regardless of ability or experience.   
One month's tuition gets you access to Five on-line classes a week plus a reference video library that expands all the time. 
In Person and Online class Schedule
Mondays at 7:30 Beginners Yang Style  T'ai Chi

Tuesdays at 12:00 Noon Qigong and Stretching

Thursdays at 12:00 Noon Body and Mind Fundamentals

Thursdays at 7:30 PM Yang Style Advanced T'ai Chi

Saturdays at 9:00  Qigong Forms

Saturdays at 10:00 Beginners Yang Style T'ai Chi 

Saturdays at 11:00 Yang Style Intermediate T'ai Chi
T'ai Chi Chuan (or Taijiquan) is the martial art of cultivating energy, relaxation, and tranquility to enhance the overall quality of life. The practice of T'ai Chi Chuan is a way of integrating personal wholeness and balance into the act of living.
The benefits of T'ai Chi Chuan include:
Creates a sense of greater well-being
Increases stamina and strength
Helps maintain a healthy weight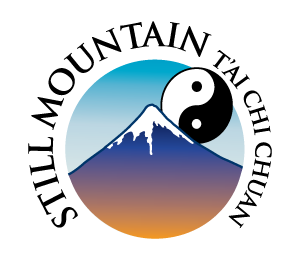 Still Mountain T'ai Chi and Chi Kung is dedicated to authentic T'ai Chi Chuan that has been passed down through numerous generations, and we emphasize the health of body and mind, meditative awareness, and the art of self-defense. We offer a number of classes, seminars, and workshops that cover a wide variety of styles and forms, but at its core, Still Mountain is faithful to the authentic essence of T'ai Chi Chuan and Chi Kung.
Singing Dragon the world's foremost publisher of books on T'ai Chi, Qigong, and Ancient Wisdom Traditions on Health and healing, is proud to announce the first systematic exploration of the nature of Qi – vital energy – and how to cultivate it.
Deng Ming-Dao, author of Scholar Warrior and 365 Tao, says that Cultivating Qi "succinctly pulls together the many threads about qi, and weaves a brocade valuable to the beginner and advanced practitioner alike."
Book Description
When we become aware of disharmony in our lives, how do we find the means, tools and will to live a life of balance?
Like the perpetual transforming of Yin and Yang, awareness and Qi (vital energy) share a dynamic, complementary relationship. Energy fuels awareness and awareness fuels energy, while the successful integration of the two fuels our focus, direction and drive. Many people who have the awareness that they want to achieve balance their lives may not have sufficient understanding of Qi to do so effectively. Emphasising the fundamental importance of understanding Qi, this book explains where it comes from, how we use it, and how we can cultivate it in order to achieve wholeness and balance. It illustrates the central importance of Qi when working with meditation, Taiji, Qigong, and other Internal Arts that focus upon its vitality, and how recognising and cultivating Qi can increase your energetic capacity and return you to a more efficient physical, emotional, and psychological state.
The author also offers a comprehensive view of the history, philosophies and practices of Qi, alongside instruction on a number of methods for opening the energy gates of the body and cultivating Qi.
Dr. David Clippinger
Director of Still Mountain
Dr. David Clippinger, the Director of Still Mountain, has decades of experience studying Buddhism, Taoism, Meditation, Traditional Chinese Medicine, T'ai Chi, Chi Kung, and Daoyin (Taoist Yoga) under the direct training of some of the world's most renowned and respected T'ai Chi and Chi Kung (qigong) teachers. As a fully ordained Ch'an (Zen Buddhist) Priest, Master Clippinger is an expert on the spiritual aspects of T'ai Chi alongside self-defense and general health training.
Master Clippinger is also one of the few people in the region trained and certified by Masters and Grandmasters in Medical and Therapeutic Chi Kung (qigong).
The Latest from the Still Mountain Blog