Still Mountain Instructors
Jesse Prentiss, a senior student at Still Mountain, plays with a T'ai Chi spear. Jesse has studied Martial Arts for many years, and assists with the Northside Pittsburgh class on Thursday evenings as well as other workshops and seminars.   In addition to being an avid and extremely skilled T'ai Chi player, Jesse is the Bassist for the band Pete Bush and the Hoi Polloi. Jesse has studied individually with Grandmaster Gracenin as well as Master Chen Xiang.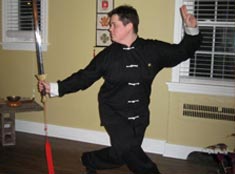 Stacey Waite, playing at Yang Style Sword in this picture, currently lives in Lincoln, Nebraska, where she is an Assistant Professor of Rhetoric at the University of Nebraska.  Stacey returns to Pittsburgh every summer to train with Dr. Clippinger and to assist with classes at Still Mountain Studio.